The best beaches in the US for summer trips
Carefree summer beach days are finally upon us. You don't have to travel to far-flung destinations like Mallorca, Spain, or Bali, Indonesia, to find a summer beach paradise.
The U.S is home to many diverse waterfront landscapes, from breezy sand dunes and rocky cliffside shorelines to cityscape sands and secret beach coves.
No matter where you live (even if you're landlocked), there's likely a beautiful beach near you, though it may not be oceanfront. You don't need an ocean to find the perfect stretch of sands, thanks to waters like Lake Tahoe and the Great Lakes.
Plus, you may just be able to avoid crowded airports and flight delays by taking a summer beach road trip closer to home.
Related: How to visit Lake Tahoe on a budget
From California's surf spots to charming East Coast nature reserves, here are 20 of the best sandy shores in destinations around the U.S. for your summer beach adventure.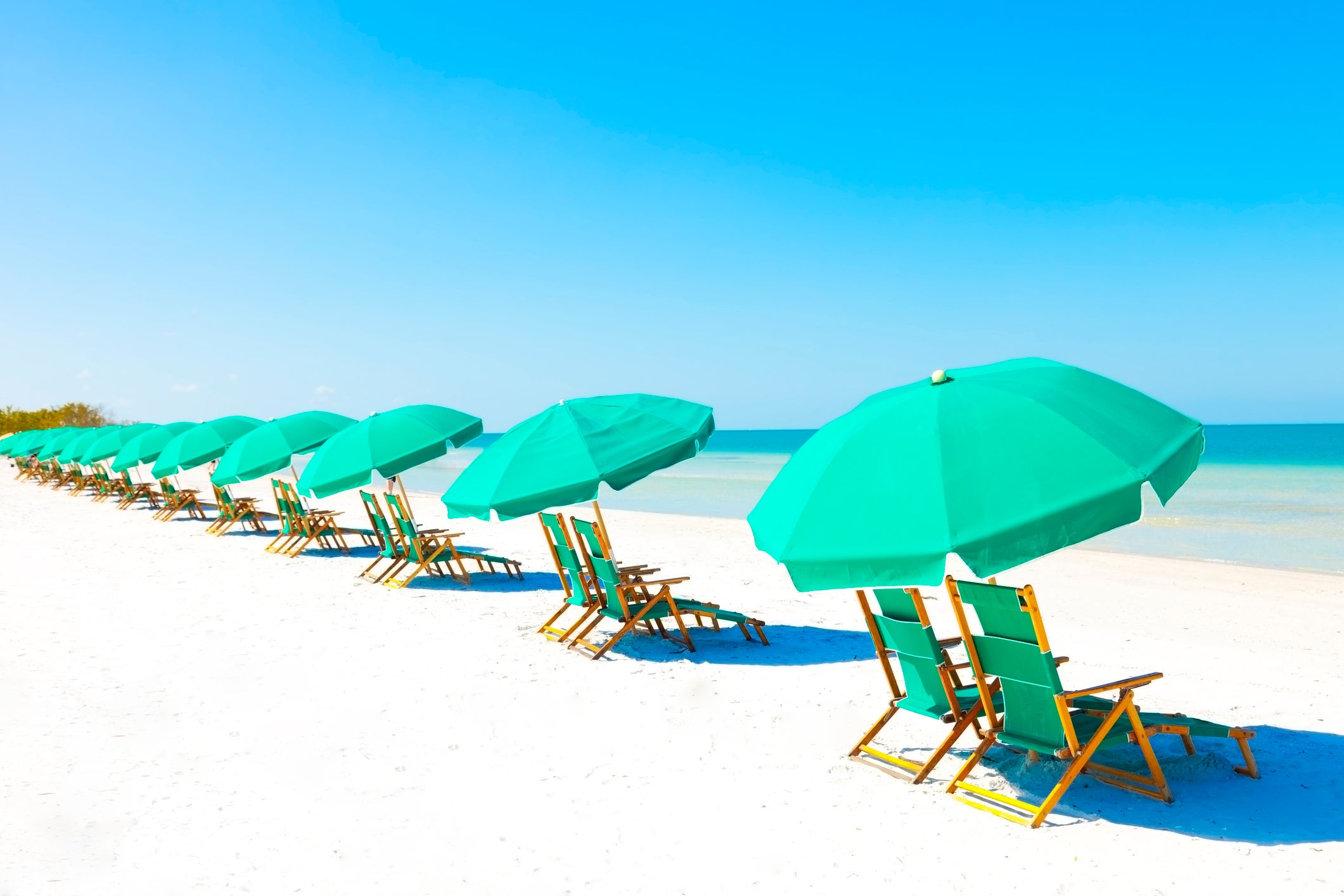 Cowell Ranch State Beach, California
With California's more than 400 public beaches, narrowing down a summer beach escape in the Golden State can be challenging. Those who want a serene beach experience should head to one of the quieter, less crowded beaches of Northern California's Half Moon Bay.
A short hike down from Highway 1 takes you to a staircase that leads to Cowell Ranch State Beach, a rugged stretch of sands flanked by rocky bluffs. You may spot a variety of flora and fauna, even seals, from the shore.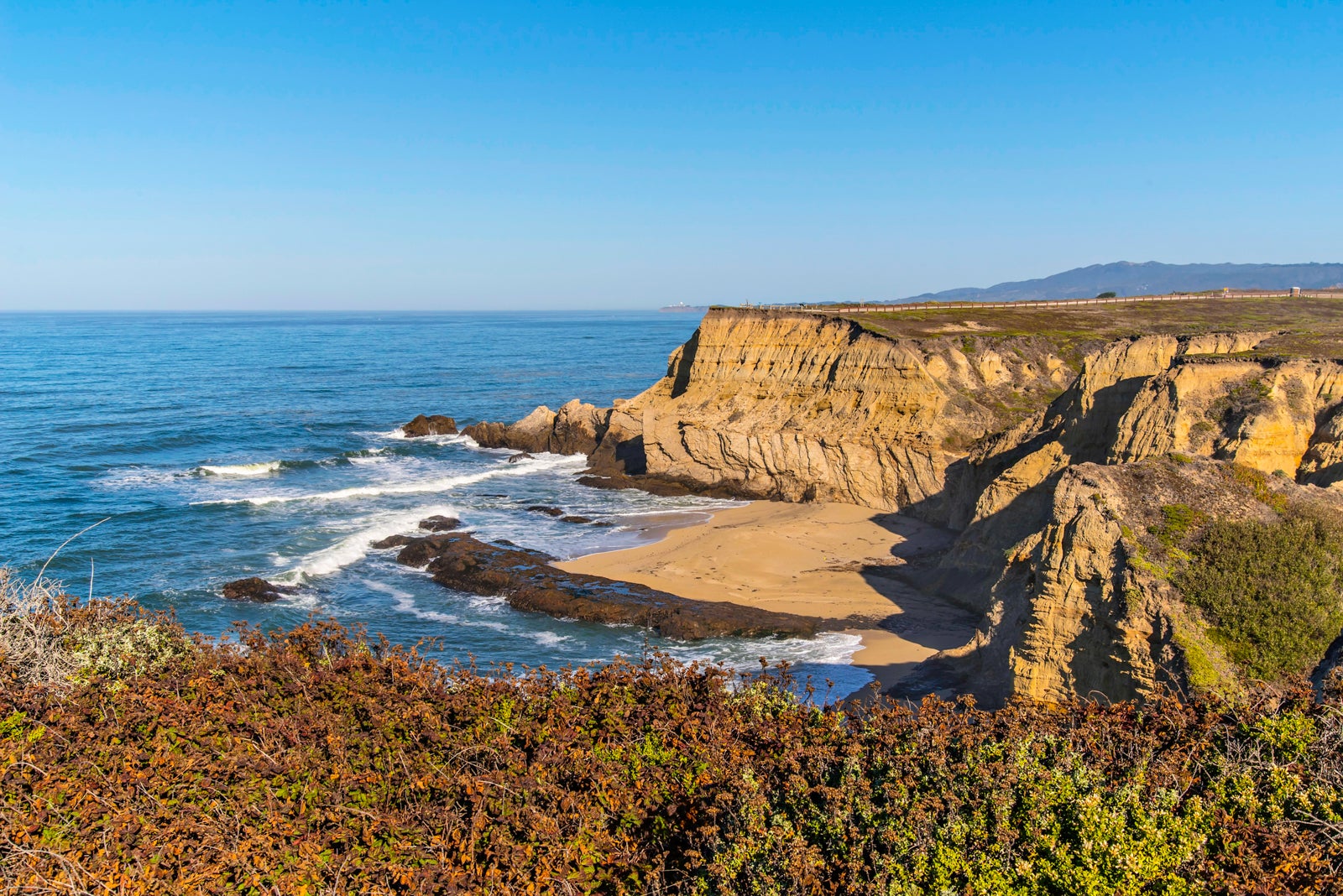 Kaihalulu Beach, Hawaii
Hawaii's islands are ringed by endless beaches, so it may be hard to decide which one to try. However, red sand sets Kaihalulu Beach on the island of Maui apart from the rest.
The steep, narrow trail to the beach can be difficult and even slippery. However, it offers a unique, crowd-free opportunity to enjoy the blue waves crashing against the rich, colorful sand.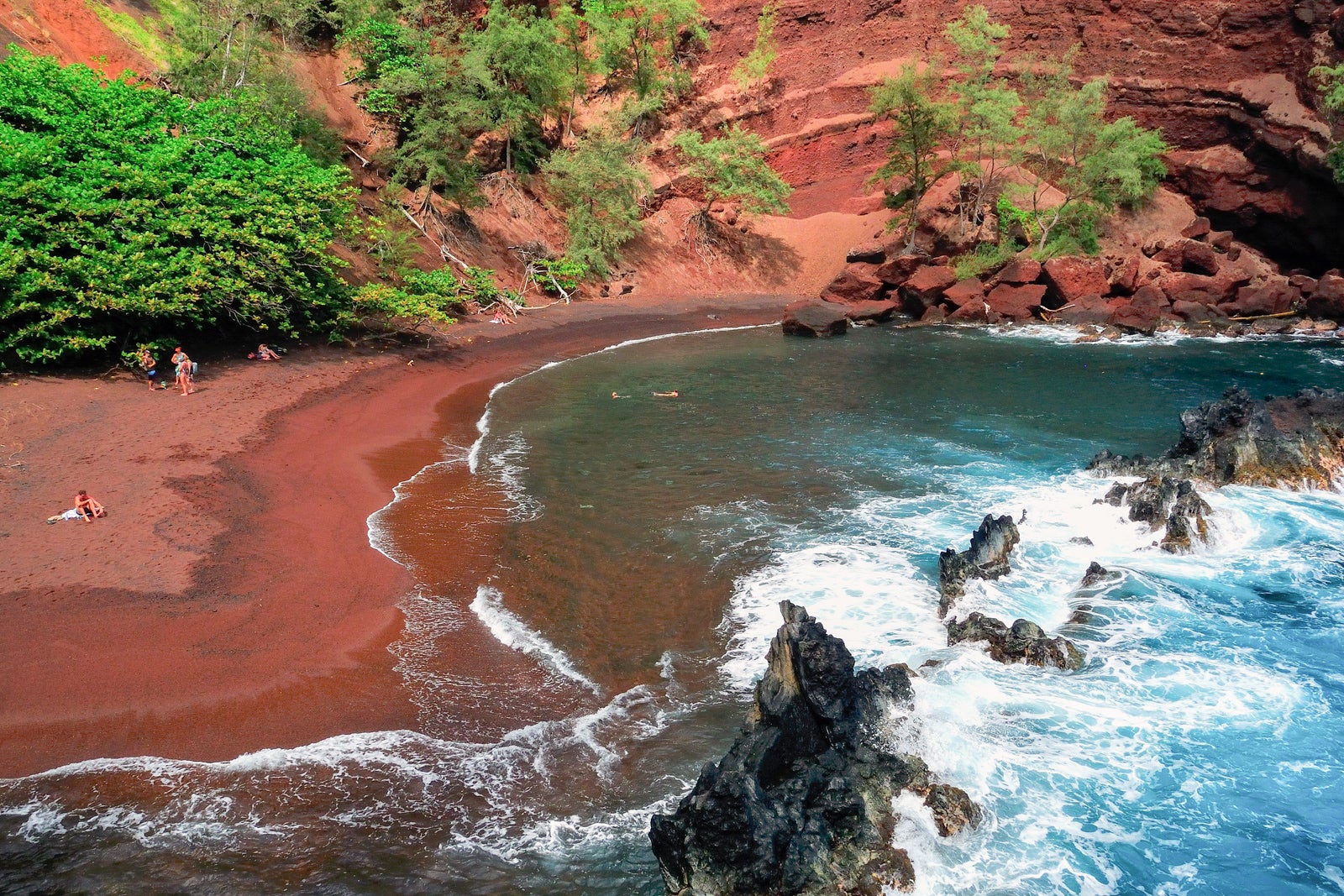 Related: Your guide to Hawaii's best beaches
North Avenue and Montrose beaches, Illinois
One of Chicago's finest city beaches, North Avenue Beach offers the refreshingly cold waters of Lake Michigan set against a perfect view of the city's skyline rising up behind the golden sand.
With an array of summer festivals like Volleywood, the Chicago Air and Water Show and various music events, North Avenue Beach's allure lasts all summer. If you tire of the sand and lake, visit the nearby Navy Pier or rent bicycles and ride them along the city's lakefront.
A few miles farther north, Montrose Beach is a popular locals beach (it has a fun dog-friendly section) backed by a tranquil bird sanctuary. There are paddleboards and kayaks for rent, a marina for boat rentals, a golf course nearby, and much-loved The Dock beach bar with vacation vibes and live music.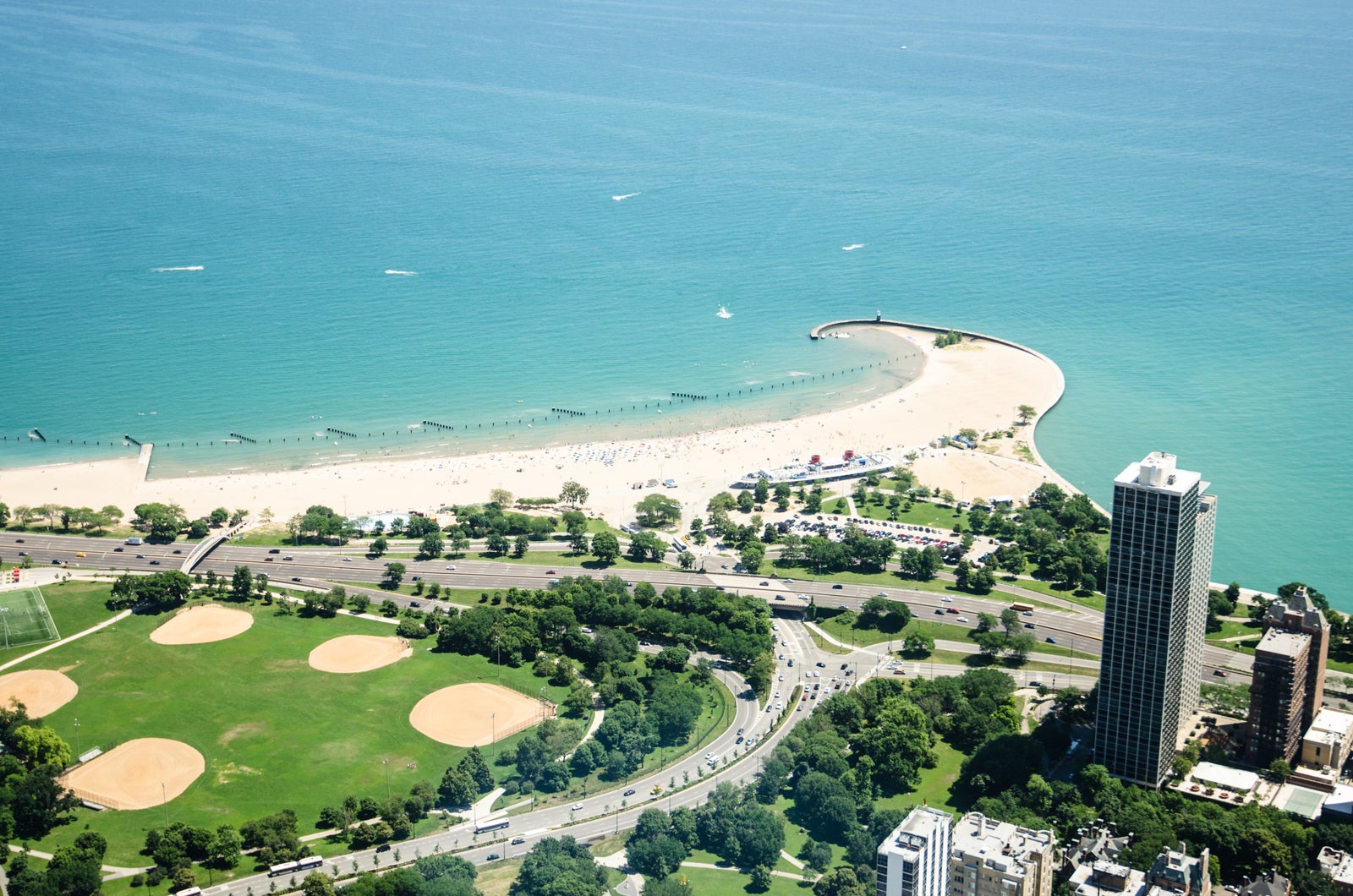 Sand Harbor Beach, Nevada
On the northeastern shores of Lake Tahoe, Sand Harbor is a cove dotted with boulders offering visitors idyllic lake and mountain views. Swim in the refreshing, clear waters, paddle out by kayak to admire the large rocks located along the shoreline or enjoy a picnic at one of the tables.
If it gets too hot, retreat to the shade of the cedar and Jeffrey pines that line the beach. Visit during the annual summer Shakespeare Festival, which sets up a beachfront stage for performances.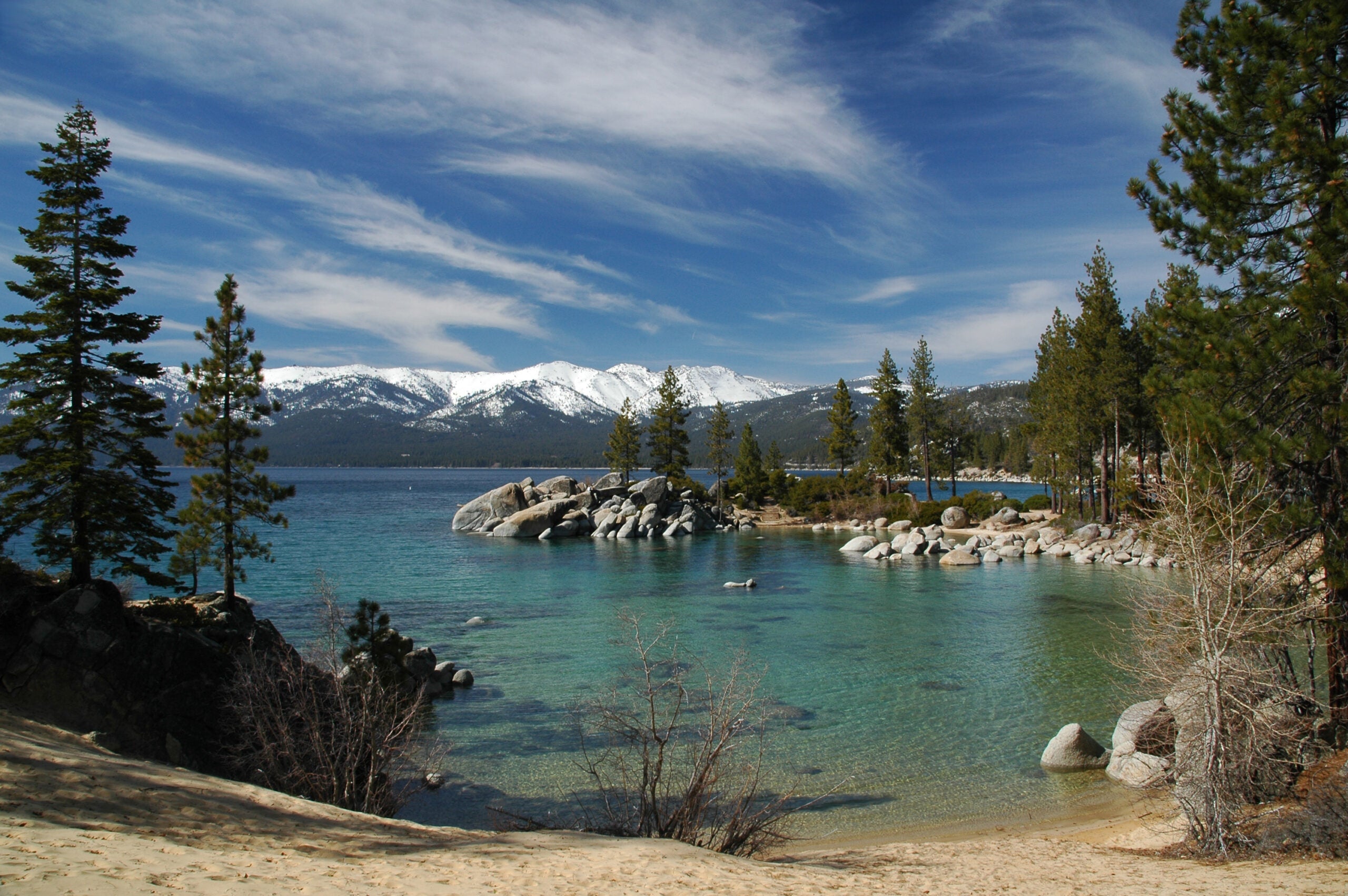 Sleeping Bear Dunes National Lakeshore, Michigan
If the name sounds familiar, maybe it's because "Good Morning America" named this national lakeshore the Most Beautiful Place in America. The park likely earned the accolade thanks to its towering sand dunes that perfectly contrast the sharp-blue waters of Lake Michigan (and the smaller Glen Lake), as well as the surrounding green forest.
It's just a 45-minute drive from Traverse City, where you can stop for the famous annual Cherry Festival, which includes parades, races, air shows and musical performances.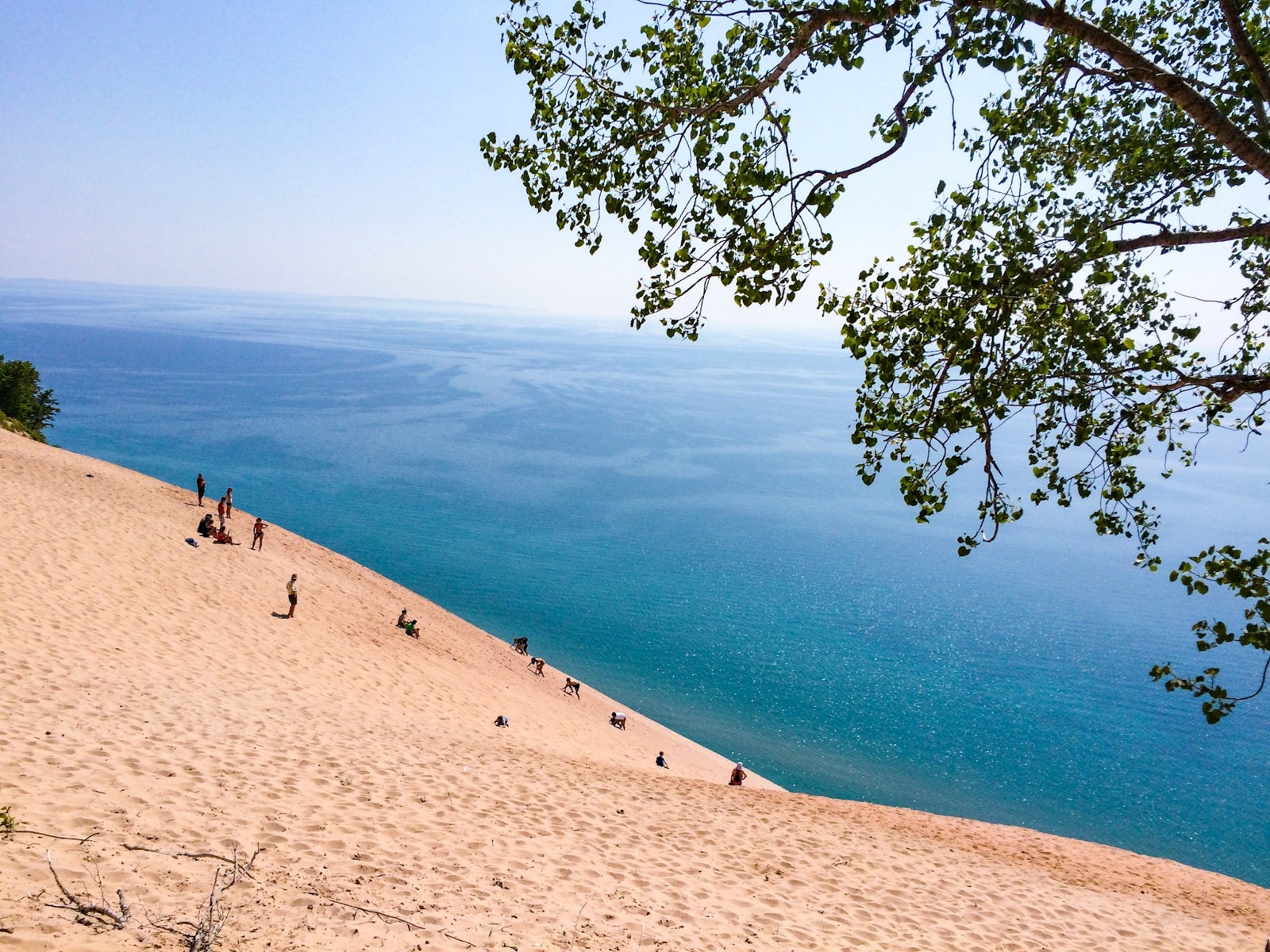 Sagg Main Beach, New York
Sagg Main combines the highbrow feel of the Hamptons with the relaxed comfort of a neighborhood beach. The beach feels secluded, backed by Sagaponack Pond, a wild, natural area.
It's also slightly closer to Manhattan and John F. Kennedy International Airport (JFK) than some of the other beaches in East Hampton or Montauk, making it easy for city-dwellers or travelers to arrive. AvGeeks landing late at JFK should consider spending a night at the TWA Hotel before heading east to the beach.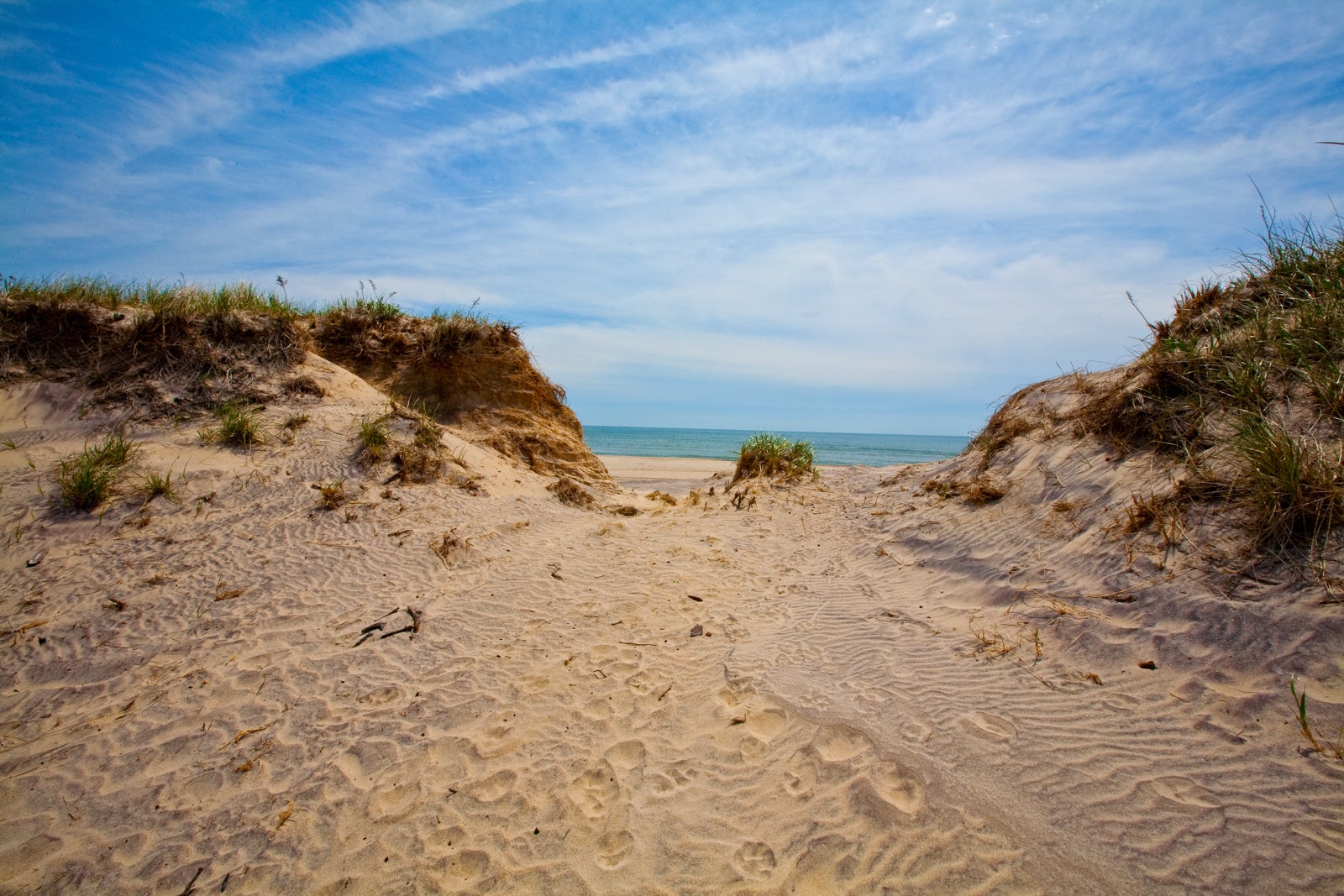 Long Beach Peninsula, Washington
Stretching for almost 28 miles, aptly named Long Beach is one of the country's longest continuous beaches. There are seven access points to different sections of the beach, which never feels crowded.
Although the water is chilly for swimming, it's an incredible beach for a good long stroll. The wooden boardwalk is starkly different from busy U.S. boardwalks, like the one in Venice Beach, California. It stands in pure tranquility, suspended above the sand dunes offering stunning sea views.
Visitors can also enjoy the summer beach breeze during the Washington State International Kite Festival.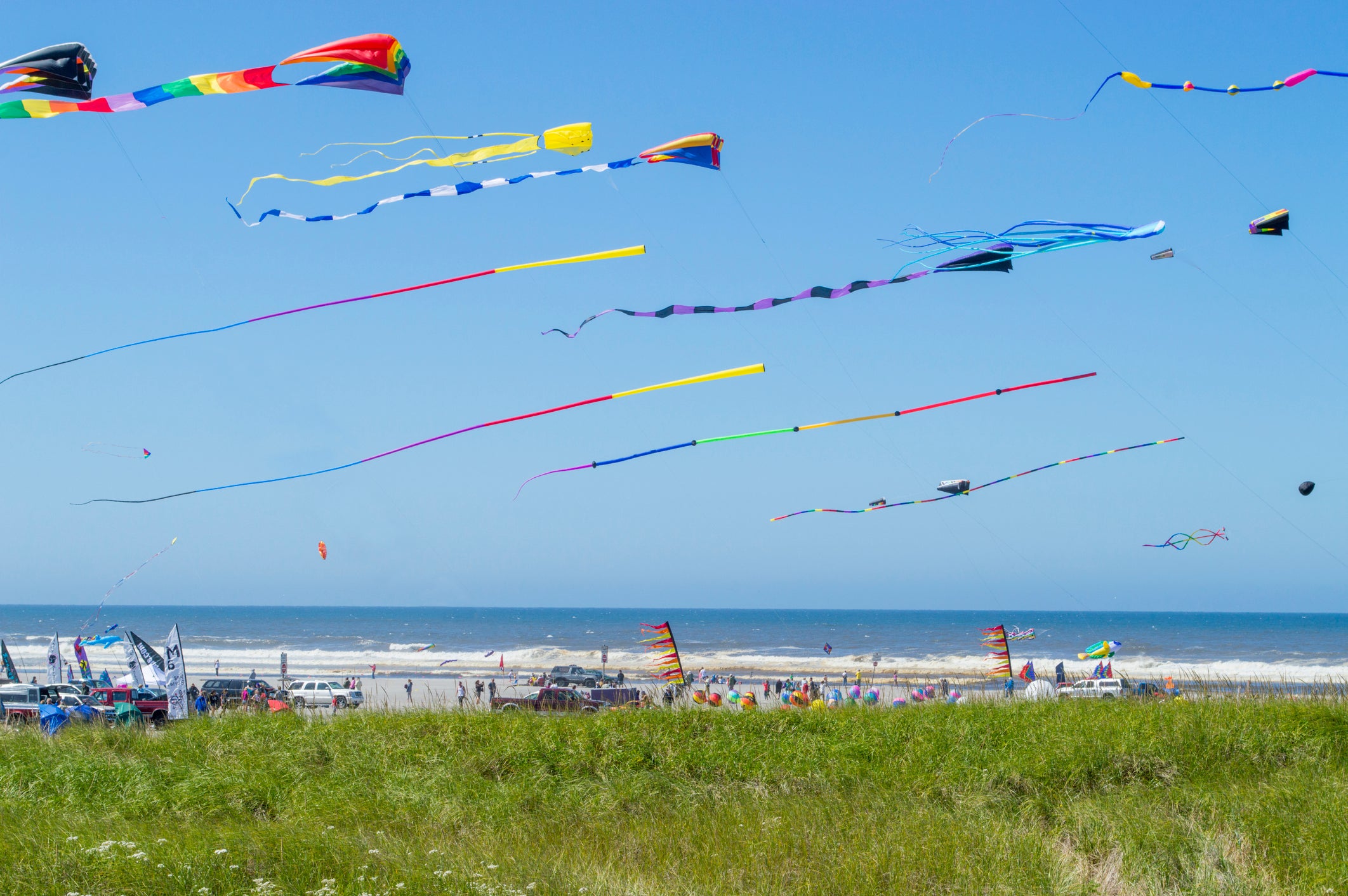 Grant Park Beach, Wisconsin
Though it's just a quick 20-minute drive from central Milwaukee, Grant Park Beach feels like a hidden refuge. It's accessible by car or a short, relatively easy hike along a wooded trail. Visitors can swim in cold Lake Michigan and take advantage of beach amenities like spots to get snacks, children's play areas, volleyball nets and even a nearby golf course.
Combine a beach day with a visit to Milwaukee's famous annual Summerfest, which features an impressive lineup of both well-known and up-and-coming musical artists and groups.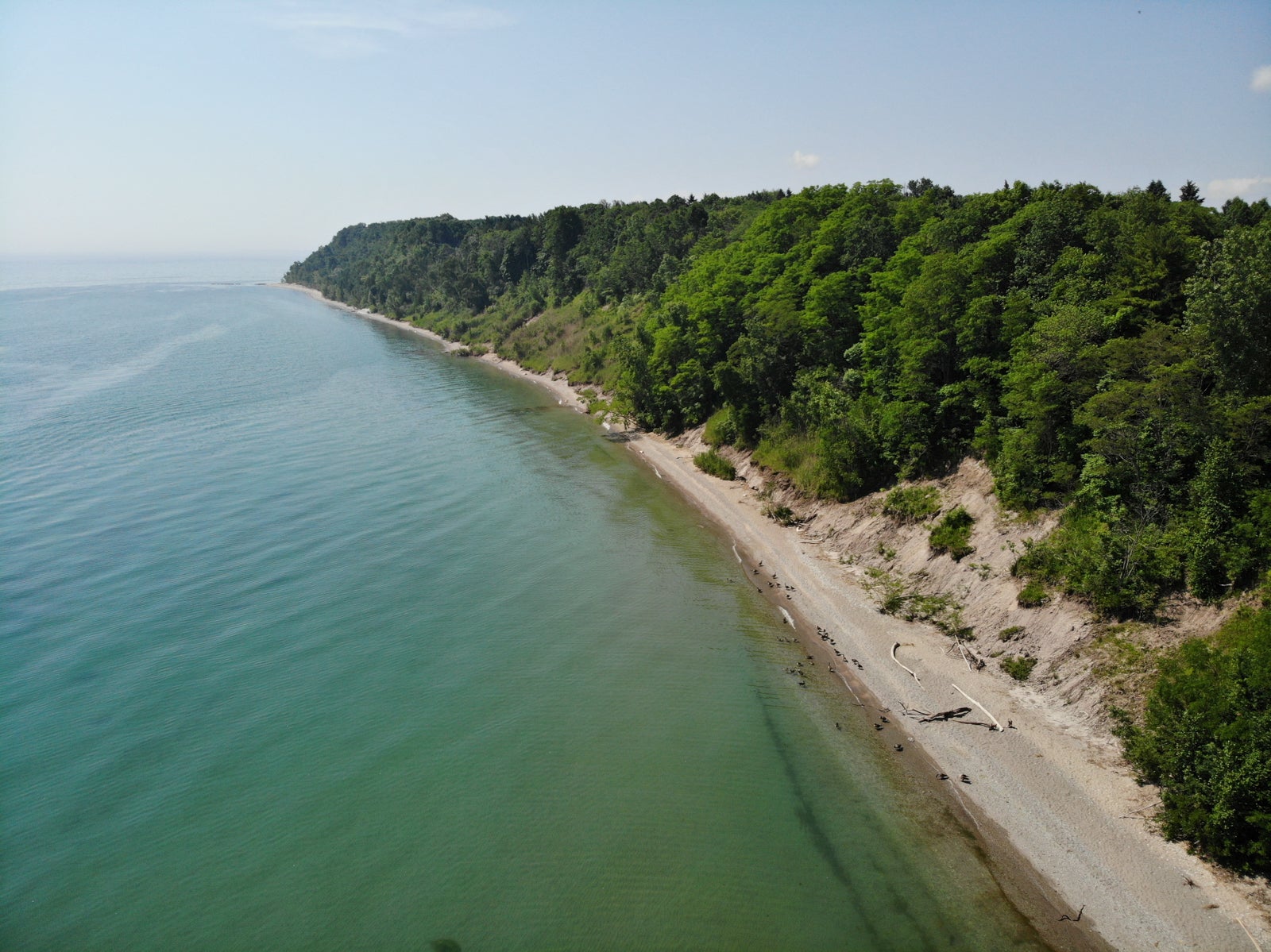 Mustang Island, Texas
A barrier island on the Gulf coast of Texas, Mustang is home to 18 miles of sandy shoreline. Mustang Island State Park is an ideal spot to explore the quiet, protected sands and experience the Mustang Island Paddling Trail, a collection of kayaking routes that run through shallow fishing waters.
For a little more action, the 6-mile Port Aransas Beach is close to Fishermans Wharf Pier and the observation tower at Roberts Point Park, where you can sometimes spot dolphins and other marine life.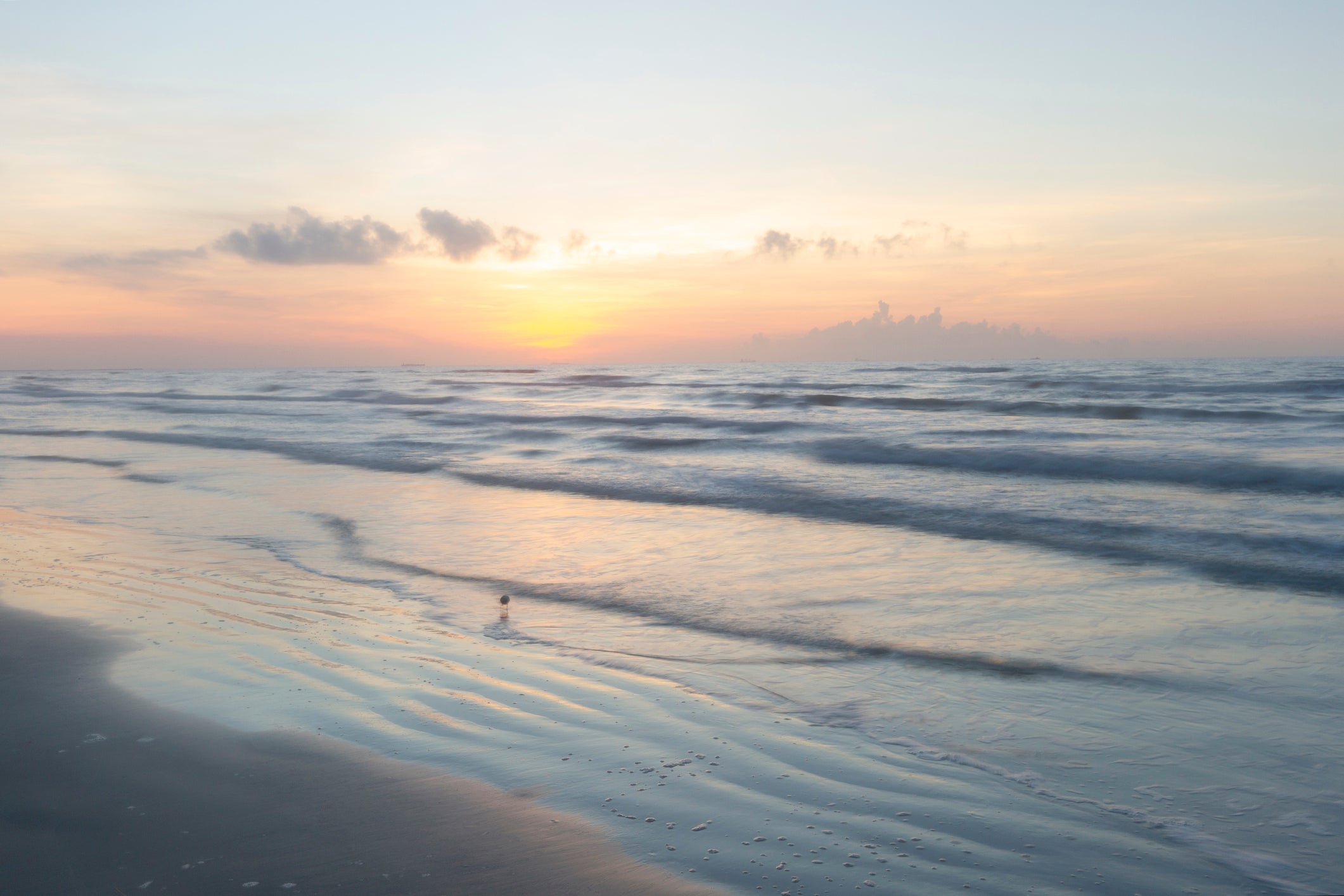 Cannon Beach, Oregon
This beach is just an hour and a half from Portland. The wild, grassy shoreline and the picture-perfect view of famous Haystack Rock in the ocean are simply stunning.
You can plan a whole vacation around visiting this beach, as the charming town of Cannon Beach offers quaint shops, gourmet dining options and beach bars, all ideal for a relaxing trip to the seaside. Note: Even in summer, it may be too cold to swim.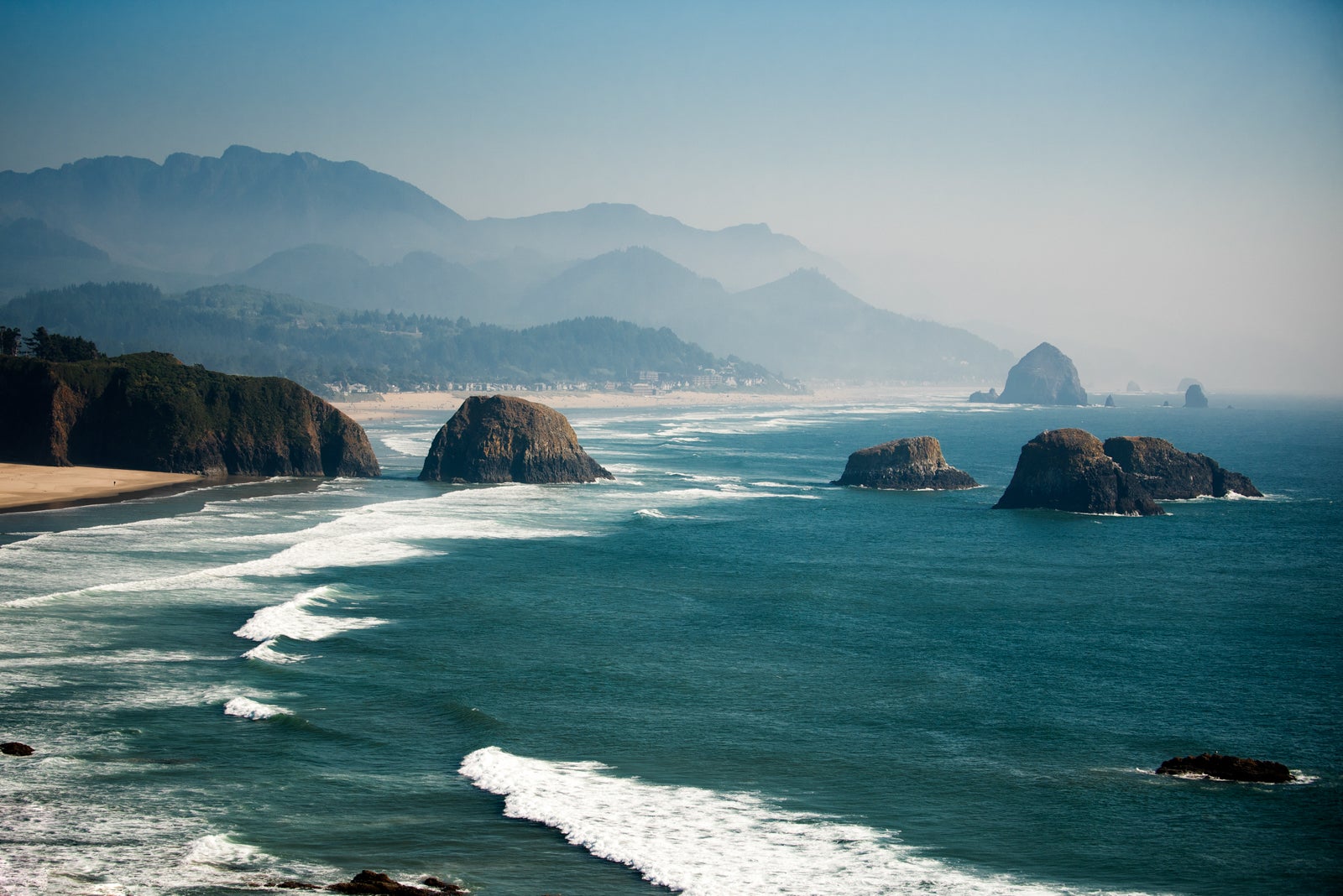 Tybee Island, Georgia
If rainy weather ruins your Tybee Island beach day, Savannah's historical center is just 18 miles away. When the sun is shining, though, wandering the barrier island's long stretch of soft sand or along the picturesque boardwalk is the perfect way to spend the afternoon. History buffs will appreciate a visit to the lighthouse, which dates back to 1736.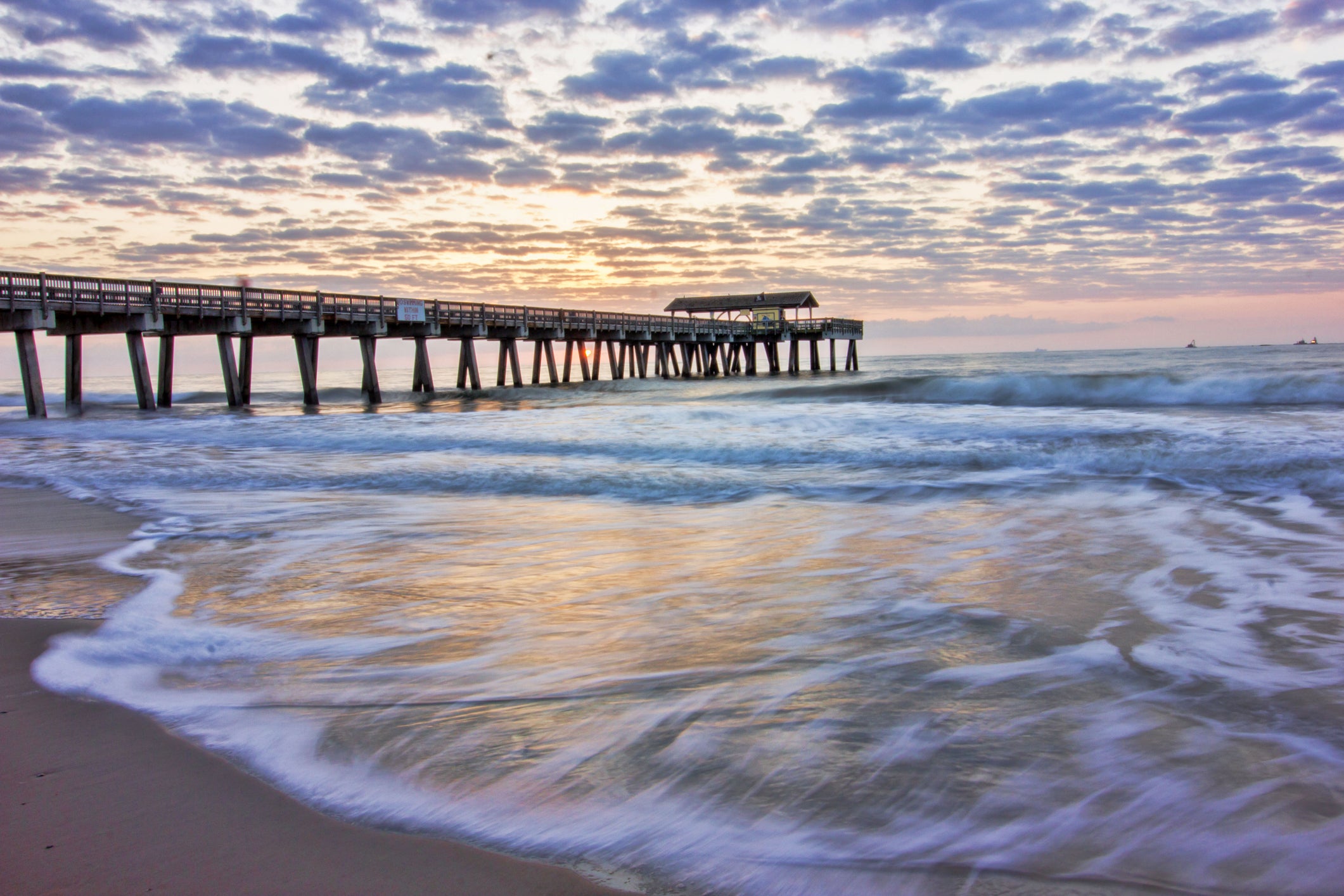 Coast Guard Beach, Massachusetts
Enjoy Cape Cod's serene sands at the 20-mile-long Coast Guard Beach. Fans of Henry David Thoreau should visit, as he deemed this spot the "Great Beach." It's also only about an hour-and-a-half drive away for Boston residents.
The area is part of the saltwater Nauset Marsh, home to a number of shorebird species, as well as marine life such as sharks and seals. Active beachgoers can swim, surf or boogie board in the Coast Guard Beach waters or bike along the marsh paths.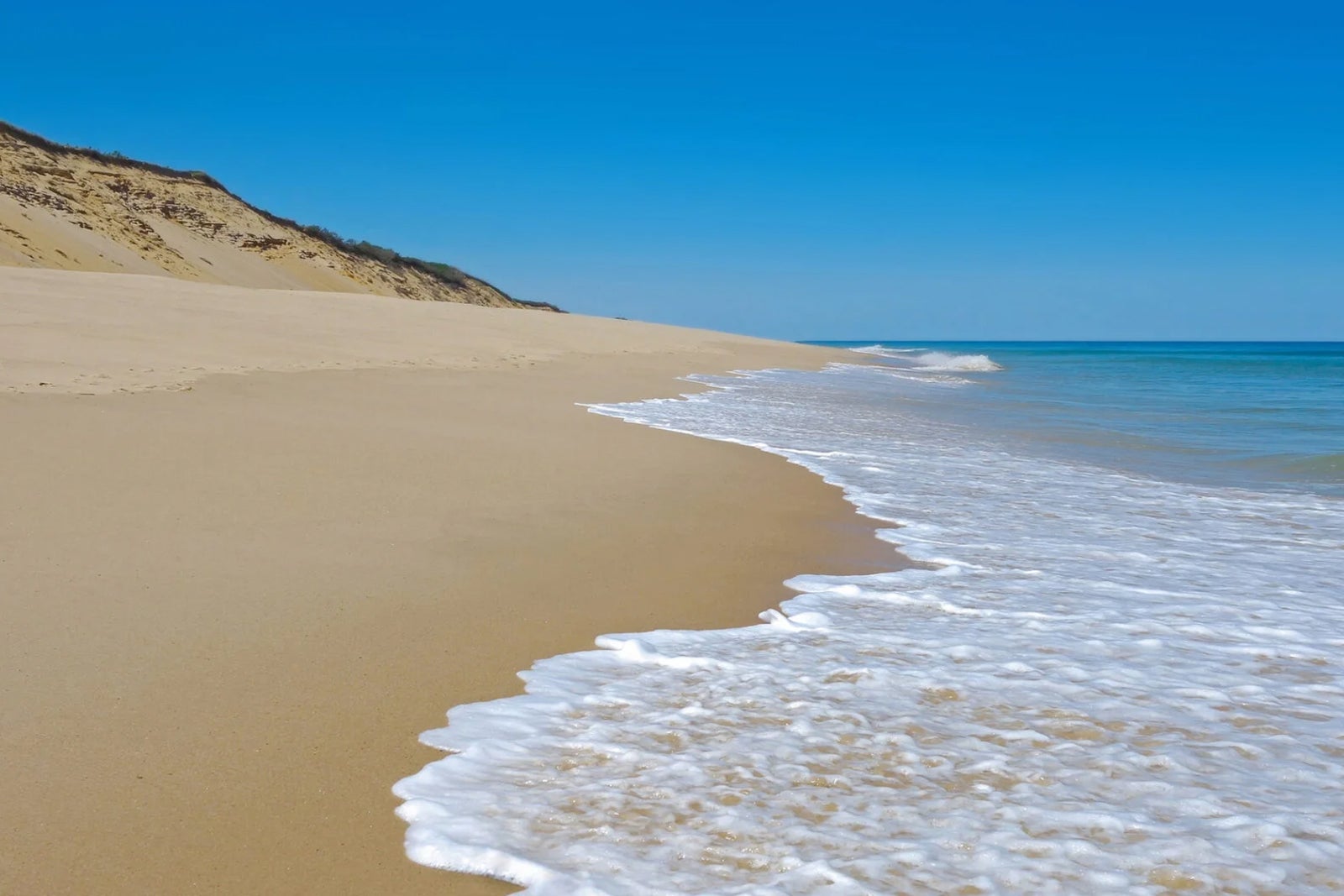 Crescent Bay Beach, California
Bordered by cliffs, Crescent Bay Beach is a small cove in Southern California. A favorite with bodysurfers when the waves are high, the beach also attracts snorkelers when the ocean is calm. Keep your eyes peeled for seals and sea lions hanging out on famous Seal Rock, about 350 feet offshore.
Disney fans, take note: This beach is only 25 miles away from Disneyland.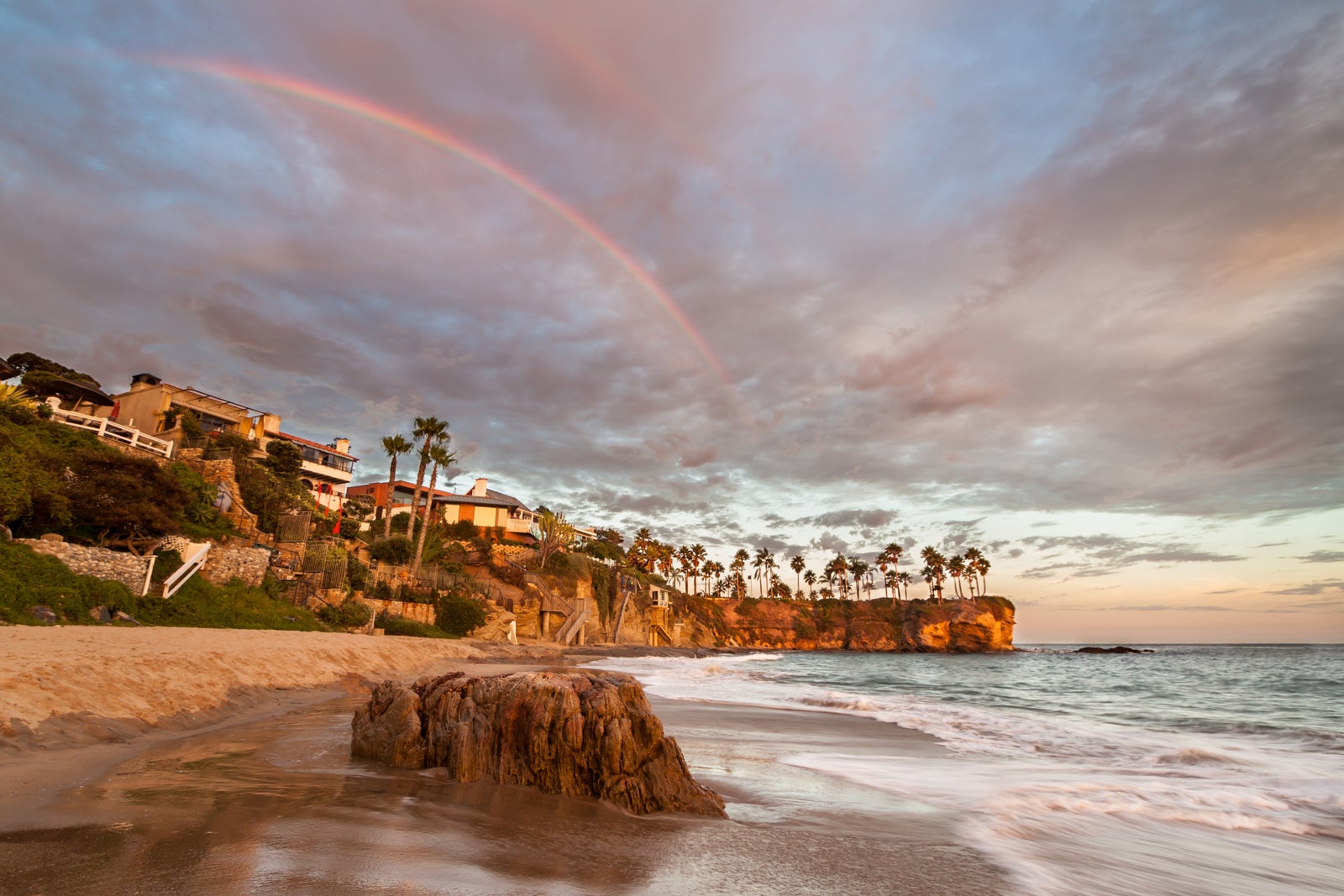 Related: The 22 best beaches in California
Goosewing Beach Preserve, Rhode Island
Goosewing Beach Preserve is a serene mix of shoreline, dunes and a coastal pond. What the beach lacks in amenities, it makes up for in natural beauty (think pebbly, silver sands and many species of birds flying over the foamy swells). The preserve's sandy bluffs and grassy dunes provide a true escape from the daily grind.
The preserve charges a parking fee per car ($18 on weekdays and $23 on weekends). Proceeds go to protect this delicate ecosystem, which is home to many threatened shorebirds.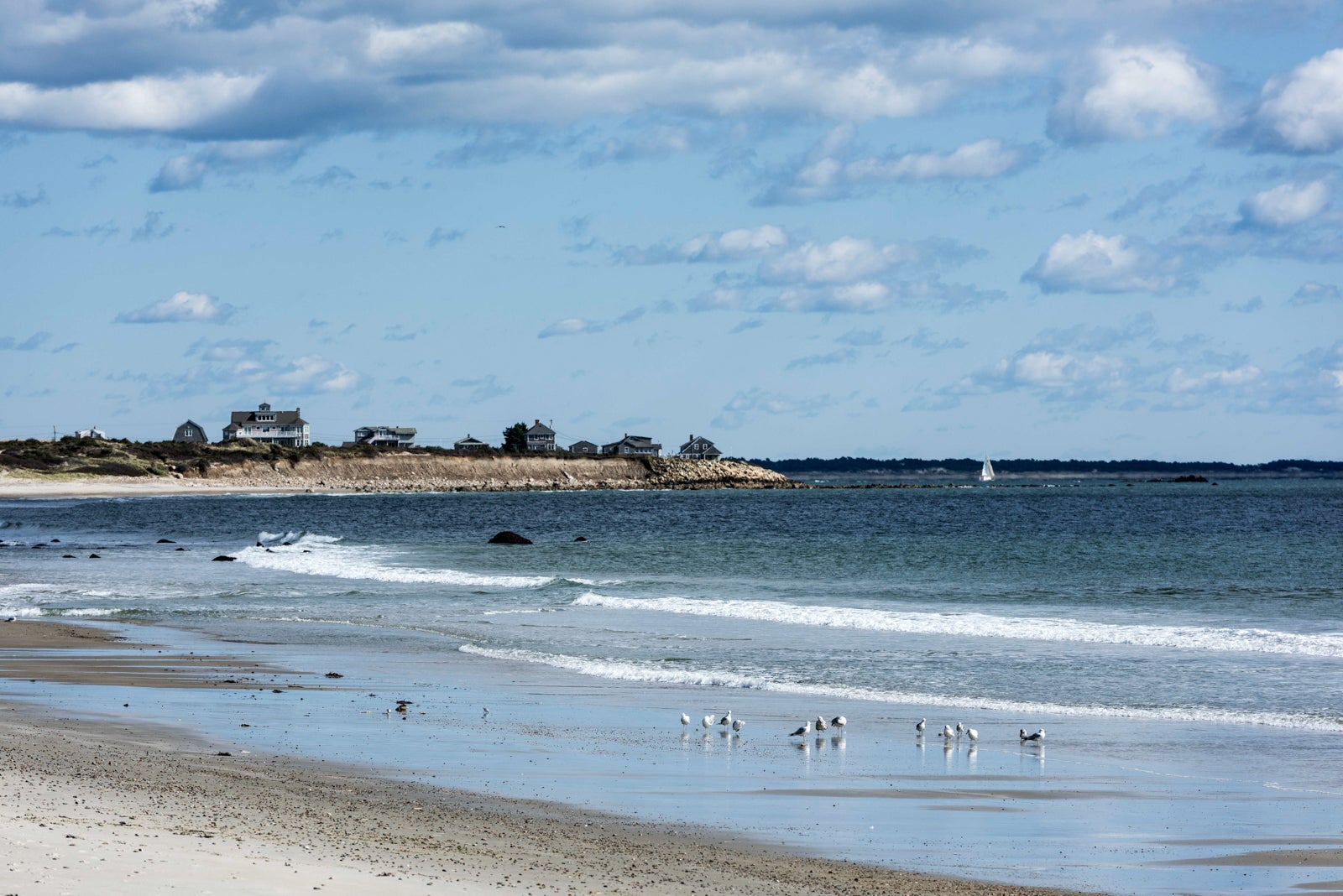 Related: TPG's picks: The best places for a family beach vacation
Kill Devil Hills Beach, North Carolina
AvGeeks should head to Kill Devil Hills Beach in the Outer Banks. It's the actual site of the Wright brothers' first flight.
Brightly colored homes line the long, sandy shore, just a short drive from the Wright Brothers National Memorial, featuring a large statue, museum and even a special junior aviation center with children's activities.
If you'd like to visit other coastal stretches, the Outer Banks is home to myriad other summer beach options.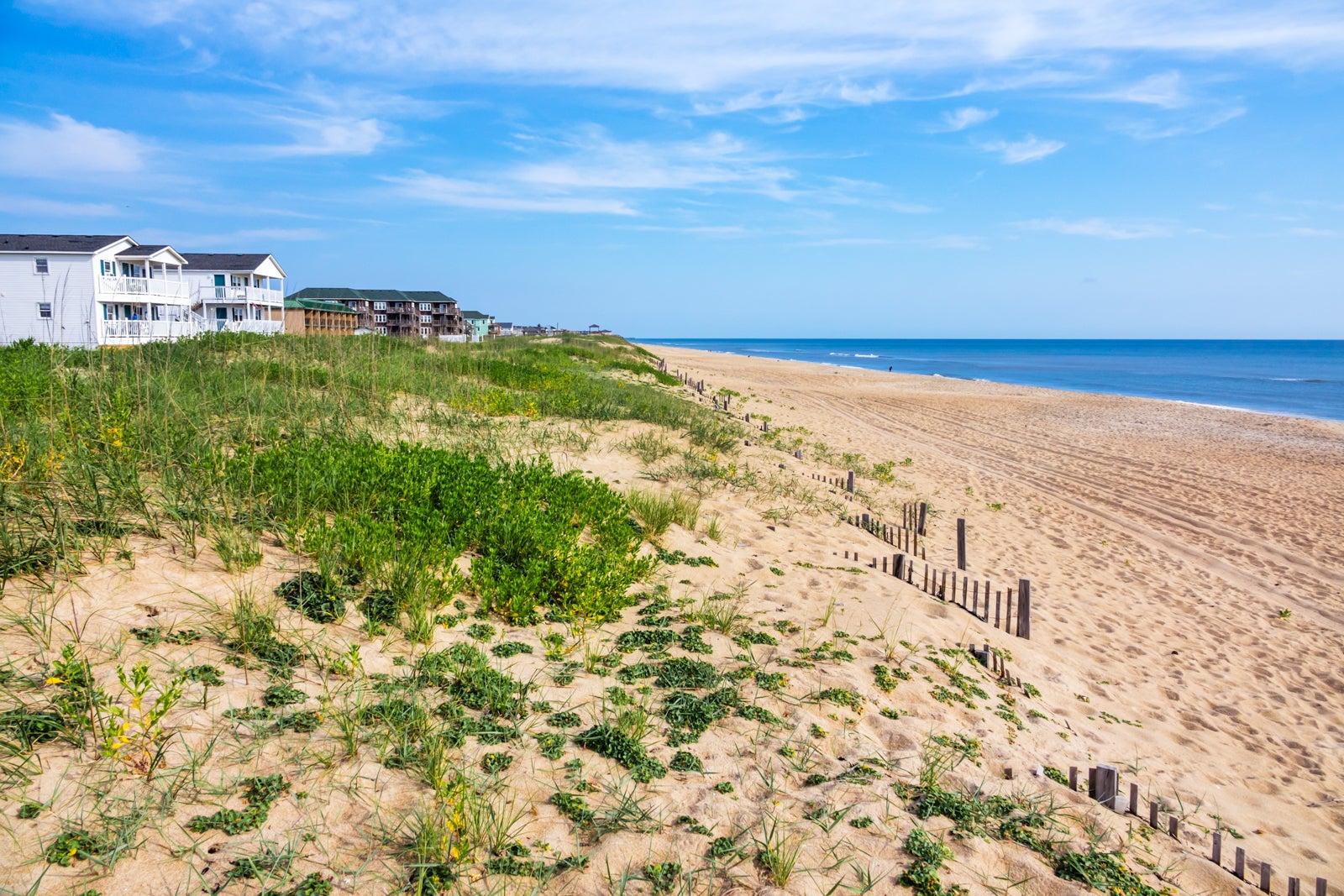 Black Beach, Minnesota
You don't have to visit Spain's volcanic Canary Islands to experience a black-sand beach. One of the most unique beaches in the U.S., Black Beach is famous for its glimmering black sand along the shore of Lake Superior.
The sand isn't volcanic, though. Its dark color is a result of taconite, a mining substance in the lake water. Either way, this dark-sand beach, complete with red-rock hills and verdant foliage, is unlike any other.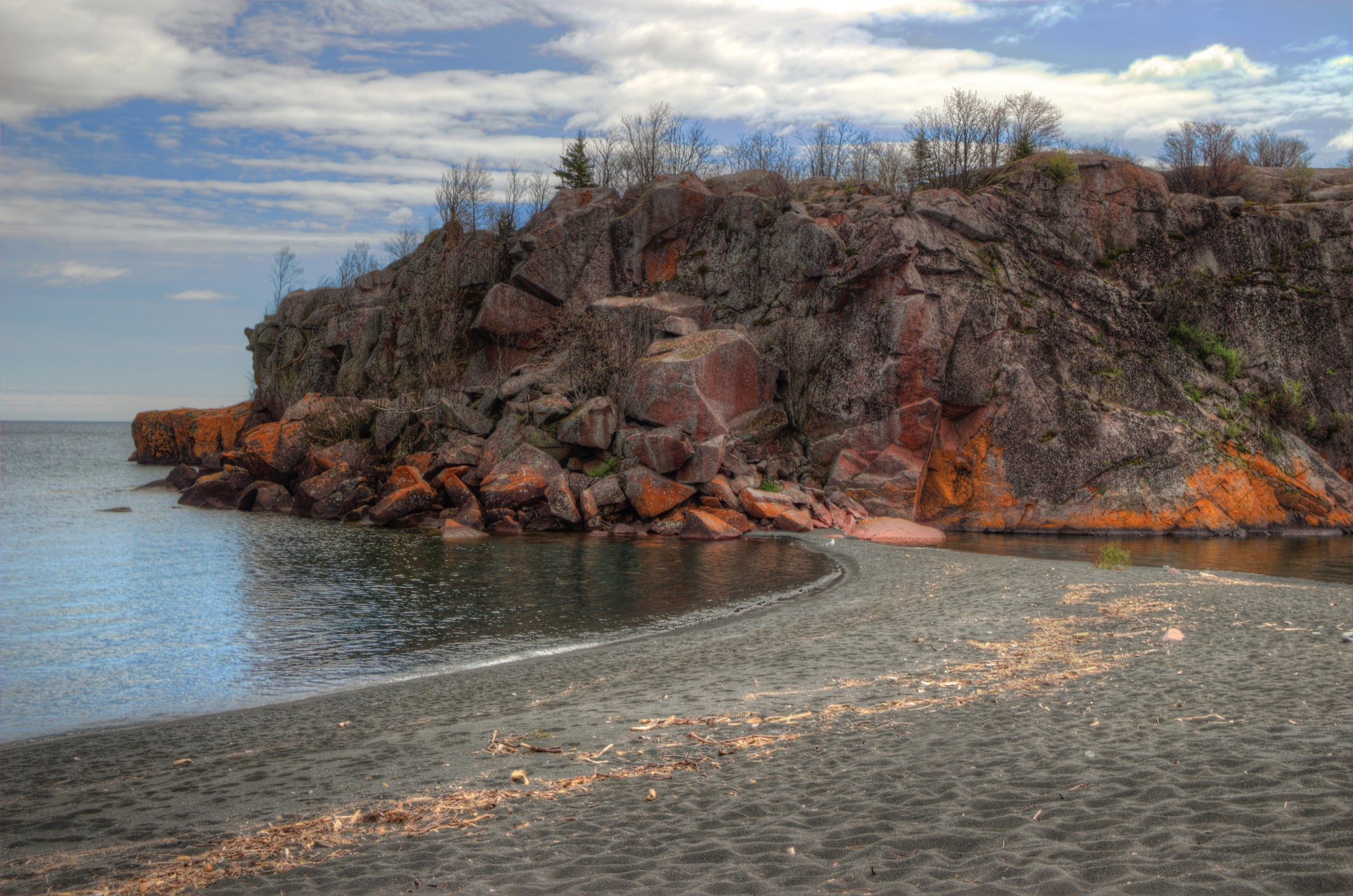 Related: 8 of the most beautiful beaches on Mallorca, Spain
Clearwater Beach, Florida
It's hard to pick a top beach in Florida, but Clearwater is always a traveler favorite. The 3-mile stretch of powdery sand and turquoise water should be enough to satisfy sun-seekers year-round. There's plenty to do, including parasailing and a beachfront promenade ideal for walking, rollerblading or biking.
Enjoy gorgeous hues as the sun sets. Once evening hits, there are almost endless choices for oceanfront dining and cocktails.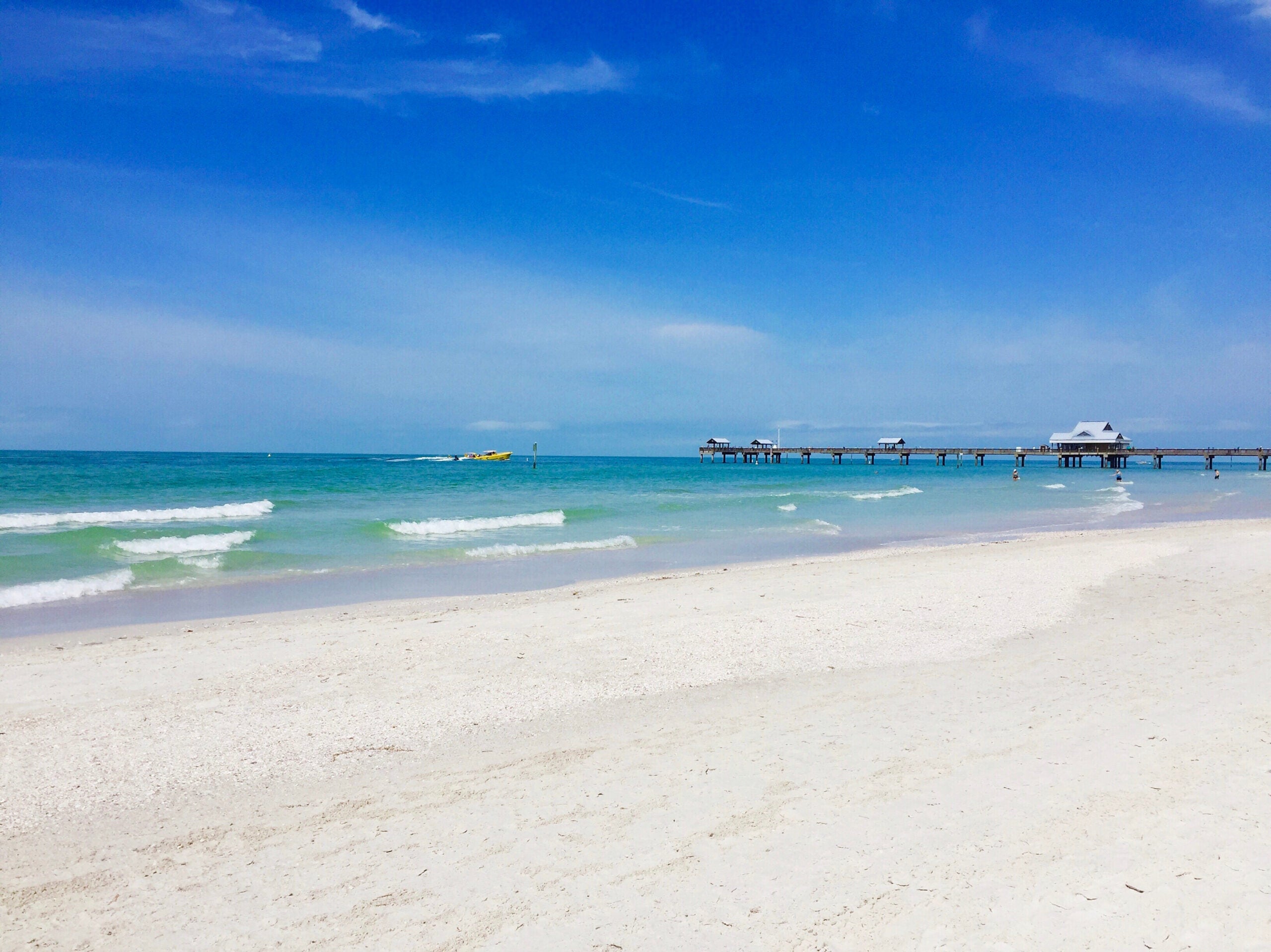 Reid State Park Beach, Maine
The 770-acre Reid State Park is home to Maine's first state-owned saltwater beach. Besides sandy beaches, which are a rarity along Maine's mostly pebble-and-rock coastline, the park has abundant plant and bird life, sand dunes, marshes and rock formations. It's also one of the state's most popular surfing areas.
Combine a summer beach trip with a hot air balloon adventure in Lewiston (a one-hour drive from Reid State Park) for the Great Falls Balloon Festival, in addition to other Maine summer festivities like lobster and clam bakes.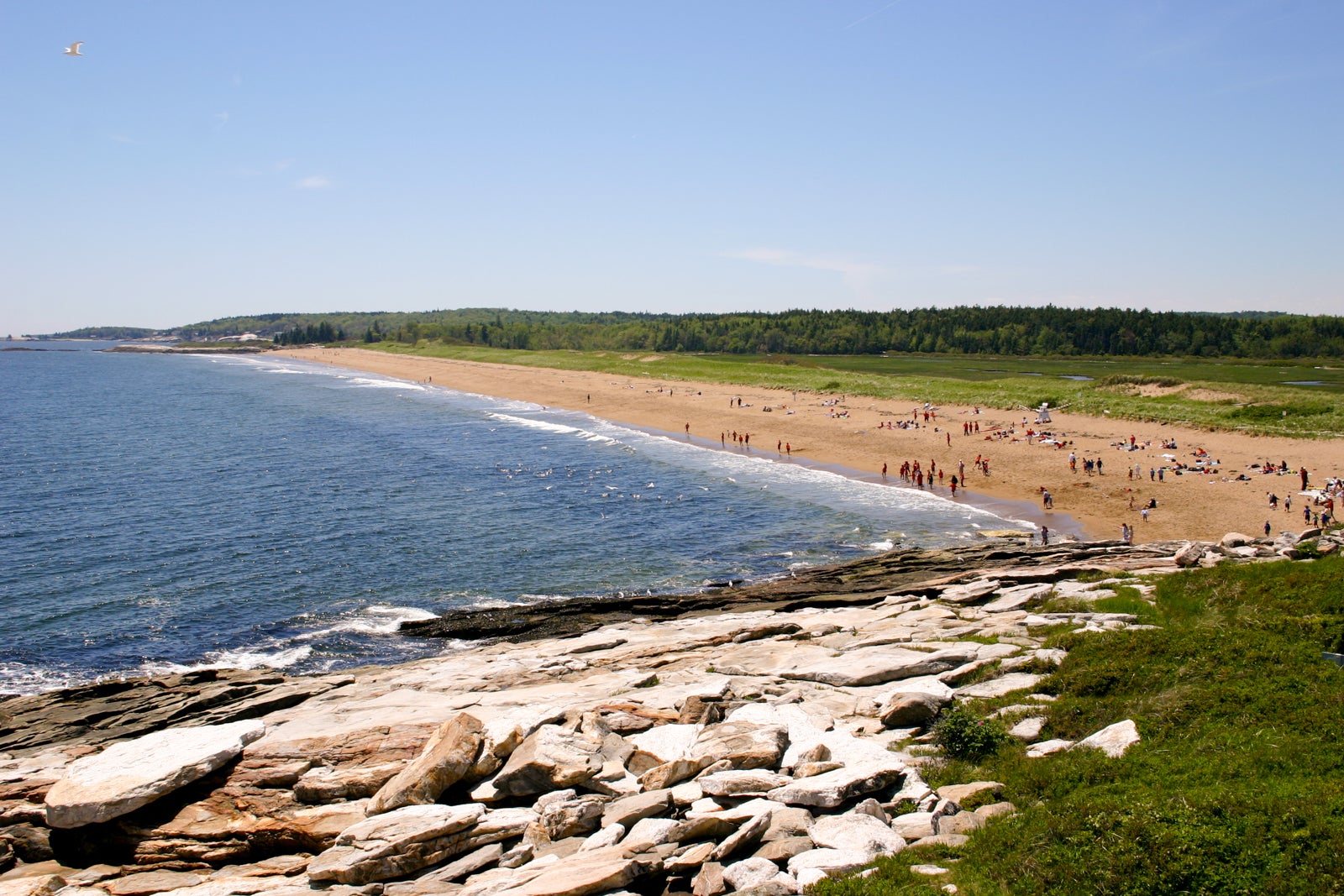 Dauphin Island, Alabama
Dauphin Island charges a small fee to visit its beaches ($10 per car). Besides swimming off the tranquil beaches, you can hike trails, visit a bird sanctuary and check out historical monuments, including cannons.
It's known as the sunset capital of Alabama. From the shores of Dauphin Island, visitors can enjoy some of the most colorful and peaceful sunsets in the southern U.S.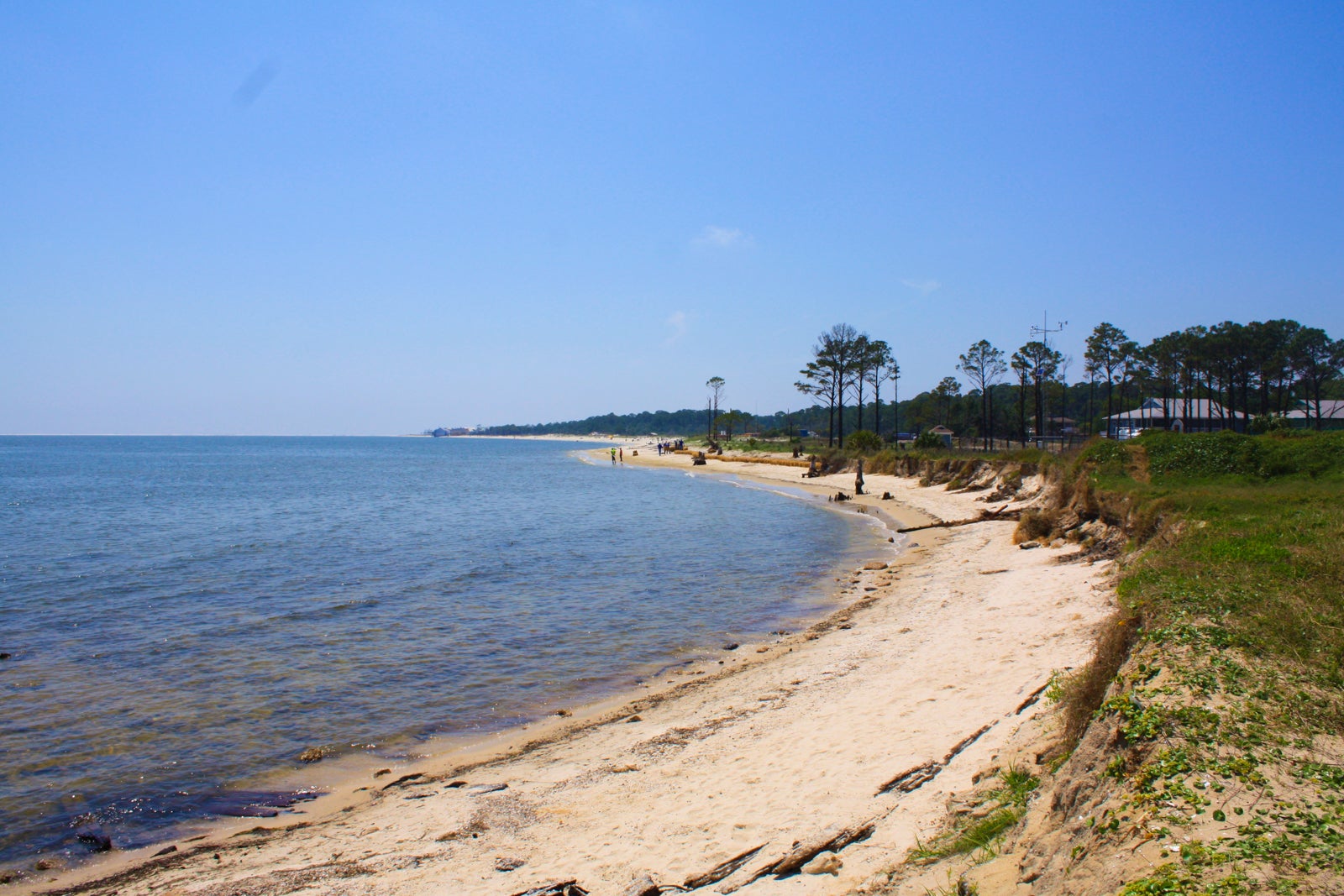 Indiana Dunes, Indiana
The Indiana Dunes span both a national and a state park. Both are home to golden sands, blustery dunes and a number of hiking trails.
With summer events like bird-watching and stargazing meetups, sand sculpture contests and s'mores days, there are lots of activities if you get bored swimming, lounging on the beach, walking the trails or frolicking on the dunes. Those who want to bring lunch or stay the night can enjoy the designated areas for picnicking and camping, too.